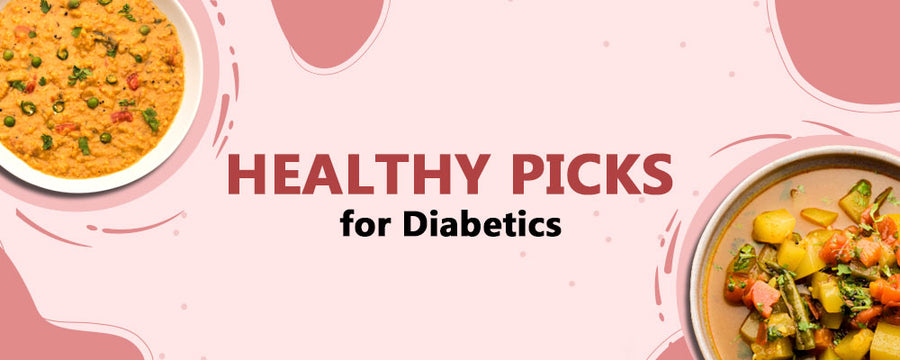 7 Diabetes-Friendly Indian Recipes for Healthy Eating
"Let food be thy medicine and medicine be thy food". - Hippocrates
We know that Diabetes is all about fluctuating blood sugar levels and this situation becomes more challenging if not taken care of or can even get worse. When your body doesn't produce enough insulin or is unable to properly respond to the insulin, there exists diabetes. 
Table of Contents:
Why Indian Dishes are Best for Diabetes?

Indian Masala Oats

Kuttu Parantha

Lauki Curry

Moong Sprouts Curry

Vegetable Dalia Pulao

Kala Chana Chaat

FAQ
Why Indian Dishes are Best For Diabetes?
Indian food is renowned worldwide for its rich and flavorful tastes. However, what many people may not realize is that Indian food draws heavily from the ancient principles of Ayurveda, which aim to promote a healthy and balanced body. Indian cuisine has long been recognized for its effectiveness in preventing and managing various diseases. Despite the increasing prevalence of conditions like diabetes and hypertension among both young and old individuals, Indian food continues to offer effective strategies for controlling diabetes and maintaining a healthy lifestyle. Curious about how Indian food can help you manage diabetes? Read on to discover more!
Traditional Indian food often includes staples such as rice, chapati, or roti, which are high in carbohydrates and have the potential to cause a rapid rise in blood sugar levels. However, it is a misconception that Indian food is inherently unhealthy or incompatible with a balanced lifestyle. Whether you are dealing with any kind of diabetes, a well-designed Indian diet plan can assist you in normalizing your blood sugar levels and managing the condition effectively. 
Want to know about the recipes for making these delicious foods? To assist you, we have compiled some easy-to-make recipes that can be beneficial for diabetes management.

Indian Masala Oats
Oats are a healthy start to breakfast. They are highly recommended for diabetics for maintaining a healthy blood sugar level. It is also the storage of fiber and carbs.
Ingredients
¾ cup veggies ( carrots, beans, corn)

2 tomatoes, chopped

1 onion, chopped

1 cup oats

1 green chili
Method of Preparation
Heat a pan over medium heat and add 2 teaspoons of oil. 

Once the oil is heated, add mustard seeds, cumin seeds, chopped onions, green chilies, and curry leaves. Saute the onion till it gets golden brown. 

Then, add all the veggies including carrots, beans, corn, and tomatoes, and saute them. 

Now add the salt, turmeric, and other spices as per your taste and cook it for a few seconds. 

Increase the flame to high and add oats and water. Stir it to avoid the formation of lumps. 

Check the consistency and switch off the flame. 

Garnish it with coriander leaves and drizzle some ghee over the hot masala oats. Serve it hot with chutney or raita.
Nutritional Value
106 calories per serving
Kuttu Parantha
Kuttu, or buckwheat, a gluten-free grain, is recognized for its ability to help maintain a healthy lipid balance in the body. This is primarily attributed to the presence of D-chiro-inositol, a compound that plays a role in controlling type-2 diabetes. It is not only nutritious but also beneficial for individuals with diabetes. 
Ingredients
2 cups of kuttu ka atta (buckwheat flour) 

1 tablespoon coriander leaves, chopped 

1 large potato 
Method of preparation
Boil the potatoes and mash them. Add in the coriander leaves and kuttu ka atta. 

Gradually knead the mixture by adding warm water to form a dough. Be cautious not to make the dough too moist, as it may become difficult to roll into paranthas.

Take a moist muslin cloth and sprinkle some whole wheat flour onto it. Place a portion of the dough on the cloth and fold the cloth over it.

Heat a tawa and gently place the parantha on it. Allow it to cook on one side before drizzling some ghee over it. Carefully flip the parantha and cook it on both sides until it turns golden brown.

Serve the delicious kuttu parathas with curd.
Nutritional Value
178 calories per serving
Lauki / Bottle Gourd Curry
Lauki, also known as bottle gourd, is an exceptionally healthy food choice, particularly for individuals with diabetes. With its high water content of approximately 92%, it is a hydrating vegetable that is also rich in fiber and various nutrients. This combination makes lauki a low-calorie and low-carbohydrate option.
Ingredients
1 Bottle gourd  (4-5 cups) peeled and cut into small cubes

1 large onion (1.5 cups) (chopped)

2 large tomatoes (chopped)

Coriander leaves chopped
Method of preparation
Set the pressure cooker to sauté mode and heat the oil in it. Add cumin, ginger, garlic, and green chilies.

Once the garlic has turned golden brown, add the chopped onions and sauté them for about 2 minutes.

Add the chopped tomatoes, spices, and salt. If necessary, add 2-3 tablespoons of water.

Stir in the cut Lauki pieces. Close the lid of the pressure cooker and bring 2-3 whistles to it. Let the pressure release naturally. 

Give the curry a good stir to ensure all the ingredients are well combined. 

Garnish the curry with chopped coriander leaves.
Nutritional Value
249 calories per serving
Moong Sprouts Curry
Add a twist to your regular sprouts. Here is the recipe of moong sprouts curry which you can enjoy with rice or roti. It is delicious, flavorful, and full of spices. It helps in maintaining high blood sugar levels.
Ingredients
1 cup sprouted moong

Curry leaves

Tamarind water

Mustard & cumin seeds

Coriander leaves

Salt
Method of preparation
Add water to sprouts till covered. 

Heat oil and add mustard and cumin seeds. Then add curry leaves. Allow it to splutter.

Add tamarind water and sprouts. 

Bring to a boil and simmer it for 3-4 minutes. Serve hot with rice or roti.
Nutritional Value
189 calories per serving
Vegetable Dalia Pulao
The high fiber content in Dalia plays a significant role in preventing elevated blood sugar levels and managing diabetes. The glycemic Index of Dalia is 41 (low and safe).
Ingredients
1 cup Dalia

3 tablespoons carrot chopped

3 tablespoons French beans chopped

4 tablespoons peas

1/2 cup onions chopped

1/4 tomatoes chopped
Method of preparation
Heat a pan and dry roast the dalia for approximately 3 minutes.

Add some oil/ghee to another pan and sauté some jeera (cumin seeds), ginger, and garlic.

Stir in the vegetables and fry them until well cooked.

Thoroughly mix the roasted dalia with the cooked vegetables.

Blend in the spices, ensuring they are evenly distributed throughout the mixture.
Pour two cups of water into the pan and stir the contents well.

Allow the mixture to cook for 10-15 minutes, stirring infrequently.

Once cooked, serve the dish while it's still hot.
Read more: Are you Looking for Home Remedies to Cure Diabetes?
Nutritional Value
105 calories per serving
Kala Chana Chaat
Black chana, also known as chickpeas, is known for their low glycemic load and glycemic index and contains a high proportion of amylose, a type of starch that is digested slowly. This unique composition helps prevent sudden spikes in blood sugar and glucose levels.
Ingredients
2 cups black chickpeas/kala chana

1/4 cup carrot grated

1 tomato finely chopped

1 onion finely chopped

1 cucumber finely chopped

2 tablespoons raw mango finely chopped
Method of preparation
Soak the chickpeas for a minimum of 8 hours.

Pressure cook them for about 5-6 whistles or until they reach the desired softness. 

Once cooked, drain the chickpeas and set them aside.

Combine all the mentioned ingredients along with the cooked kala chana in a mixing bowl. Toss them well to ensure they are thoroughly combined.

Sprinkle some fresh coriander leaves over the dish and add lemon juice and chaat masala. Now, it is ready to be served and enjoyed!
Nutritional Value
312 calories per serving
Fruit Salad
Fruit salads offer a healthy and nutritious option for satisfying your sweet cravings, serving as a great alternative to other desserts. However, it's important to be mindful of the calorie and carbohydrate content, which can vary depending on the serving size and types of fruits chosen.
Ingredients
1 cup seedless grapes

1 cup papaya cubes

3/4 cup pineapple cubes

1 cup apple cubes

1 cup pineapple cubes

1 cup pomegranate seeds

1/2 cup fresh blueberries

1/2 cup fresh blackberries
Method of preparation
In a large bowl, combine all the fruits, chaat masala and toss gently to blend all the flavors together.

Allow the fruit salad to sit for a few minutes before serving.

Feel free to include any fruit of your choice.
Nutritional Value
122 calories per serving
FAQ
Which carbs can you eat if you are diabetic?
When it comes to managing blood sugar levels, the best carbohydrate choices are those that come from whole grains, fruits, and vegetables. These types of carbohydrates can help support a balanced diet for individuals with diabetes.
Is eating sugar the only cause of diabetes?
No, consuming sugar alone is not the sole cause of diabetes. While excessive sugar consumption can increase the risk of developing type 2 diabetes, it is not the sole cause. Other factors that can contribute include genetics, obesity, unhealthy diet, age, and ethnicity.
Can I eat any sugar?
Indeed, in recent years, medical professionals have discovered that consuming a moderate amount of sugar typically does not pose significant issues for most individuals with diabetes, as long as it is part of a well-balanced diet.