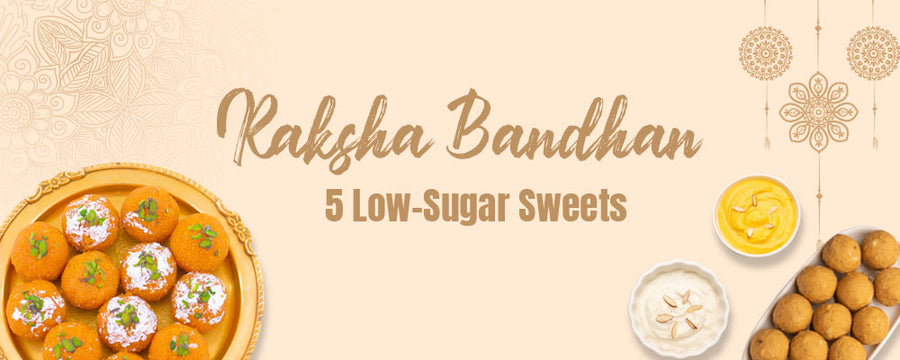 This Raksha Bandhan: 5 Low-Sugar Sweets to Cherish with Goodveda
A celebration of the unique bond between siblings is right around the corner. This festive occasion is all about sweetness but don't forget to watch sugar intake due to diabetes concerns! Goodveda, your trusted healthcare partner, brings you a delightful collection of 5 low-sugar sweet recipes that will add a touch of sweetness to your celebrations while keeping your health in mind.
Almond and Saffron Kheer:
Kheer, the quintessential Indian dessert! Swap out the sugar for a natural sweetener like stevia or erythritol, and let the aromatic saffron and chopped almonds create a luxurious flavor. This creamy treat will satisfy your sweet tooth without causing sugar spikes.
Healthy Date and Nut Ladoo:
Traditional laddoos get a healthy makeover with the goodness of dates and nuts. These bite-sized delights are packed with fiber, vitamins, and minerals. This recipe adds a dash of cardamom for an authentic taste, making it a perfect guilt-free indulgence for the festive occasion.
Fruit Yogurt Parfait:
Looking for a refreshing option? Goodveda suggests a delightful fruit yogurt parfait. Layer low-fat yogurt with a medley of fresh fruits like berries, kiwi, and mango. Drizzle with a touch of honey or agave syrup for sweetness. Trust us this a healthy treat for your taste buds.
Coconut and Jaggery Modak:
Raksha Bandhan is incomplete without modaks, and Jaggery, is a natural sweetener with a lower glycemic index. The combination of coconut and jaggery fills these modaks with flavor and warmth, making them a festive favorite.
Low-Sugar Carrot Halwa:
Carrot halwa, a classic dessert, gets a makeover that's kind to your blood sugar levels. Use grated carrots cooked in milk and sweetened with a minimal amount of jaggery or date paste. The result is a rich and satisfying dessert that maintains the traditional flavors without compromising health.
This Raksha Bandhan, let Goodveda be your guide for healthier celebrations with these special low-sugar sweet recipes. These treats not only match the spirit of the occasion but also fit well with your health aims. These yummy options let you join in the celebrations without stressing about your sugar levels. Enjoy the happiness of Raksha Bandhan with Goodveda's low-sugar sweets and make wonderful memories with your family. 
And the best part? You're also looking after your health while having fun!