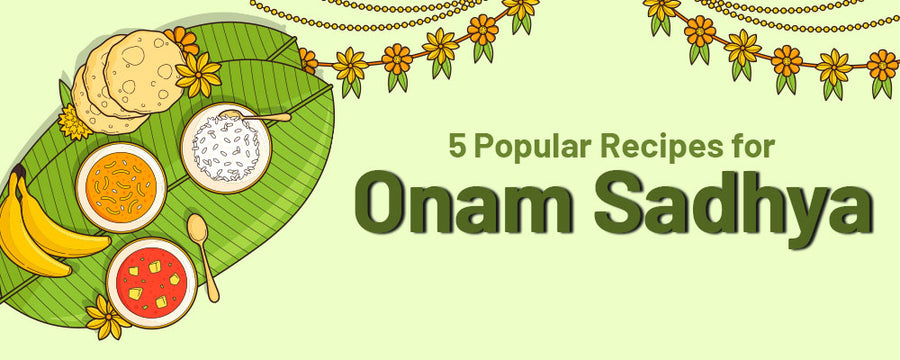 5 Popular Recipes for Onam Sadhya
Right in the heart of Kerala, which is often called "God's Own Country," there's this awesome festival called Onam. It's all about people coming together, having a great time, and staying healthy. It's not just about celebrating the harvest season, but also about eating really good and healthy food. This helps us stay well and balanced. So, let's check out how Onam, besides its exciting celebrations, is also a cool way to stay healthy and enjoy traditions.
Onam Sadhya: A Nutrient-Rich Feast:
At the heart of Onam celebrations, there's this amazing feast called Onam Sadhya. Imagine a big meal served on a banana leaf - it looks great and is packed with nutrition. This feast includes lots of different vegetarian dishes that show off Kerala's delicious cooking style. 
The Onam Sadhya is like a complete and balanced meal that's really good for you. It's full of plant-based stuff that gives your body important things it needs, helps your digestion, and makes your immune system strong. They use coconut and coconut oil, which are healthy fats that keep you well.
Healthy Onam Recipes: Nourishing Your Celebrations
Oats Aviyal
Ingredients:
1 cup rolled oats
Variety of vegetables (carrots, beans, pumpkin, drumsticks)
Grated coconut
Curry leaves
Mustard seeds
Green chilies
Yogurt (optional)
Coconut oil
Salt to taste
Method:
1) Cook the rolled oats in water until they are soft and well-cooked.
2) In a separate pan, heat coconut oil and add mustard seeds. Once they splutter, add curry leaves and green chilies.
3) Add the assorted vegetables and cook them until they are tender.
4) Stir in the cooked oats and grated coconut. Mix well.
5) You can add a dollop of yogurt if desired for a creamy texture.
6) Season with salt and serve your wholesome Oats Aviyal.
Millet Payasam
Ingredients:
1 cup millet of your choice (foxtail, barnyard, or others)
Jaggery or honey
Coconut milk
Cardamom powder
Ghee
Nuts and raisins for garnishing
Method:
1) Cook the millet until it's soft and fluffy.
2) In a separate pan, melt jaggery or honey with a little water to create a syrup.
3) Add the cooked millet to the syrup and mix well.
4) Pour in coconut milk and simmer until the flavors meld.
5) Add a pinch of cardamom powder for aroma.
6) In another pan, heat ghee and roast nuts and raisins until golden. Garnish your Millet Payasam with these roasted delights.
Coconut Ladoo
Ingredients:
Dried coconut
Jaggery
Cardamom powder
Ghee
Method:
1) In a pan, melt jaggery with a little water to create a syrup.
2) Add dried coconut to the syrup and mix well.
3) Add a pinch of cardamom powder for flavor.
4) In another pan, heat a little ghee and lightly roast the coconut-jaggery mixture.
5) Once it's well combined and aromatic, shape the mixture into small ladoos.
Fruit Salad with Jaggery Dressing
Ingredients:
Different varieties of fruits (mangoes, bananas, grapes, pomegranate, etc.)
Jaggery syrup
Lemon juice
Mint leaves for garnishing
Method:
1) Chop all the fruits into bite-sized pieces and place them in a bowl.
2) Prepare jaggery syrup by melting jaggery with a little water and letting it cool.
3) Drizzle the jaggery syrup and a splash of lemon juice over the fruits.
4) Toss the fruits gently to coat them with the dressing.
5) Garnish your Fruit Salad with fresh mint leaves for a refreshing touch.
Achappam
Ingredients:
1 cup rice flour
1/4 cup all-purpose flour (maida)
1/2 cup coconut milk
1/2 cup sugar
A pinch of salt
Oil for deep frying
Method:
1) Mix rice flour, all-purpose flour, coconut milk, sugar, and a pinch of salt to make a smooth batter.
2) Heat oil in a pan over medium heat.
3) Dip an Achappam mold in hot oil to heat it.
4) Dip the mold in the batter, then back in the oil.
5) Fry until golden and crispy, then remove using a slotted spoon.
6) Let them cool and store in an airtight container.
The heart of Onam is found not just in the extravagant celebrations, but also in the nourishment and well-being that these delightful dishes offer to your plate.
As you enjoy these nutritious dishes, let them show the blend of tradition and health, making this Onam special with good vibes and wellness. Have a happy Onam!